Home | Available Used Machinery | New Machinery | Your Surplus Machinery | Your Machinery Needs | Appraisal | Financing
A. Green Co., Inc.
Professional Trade Organizations.
Machinery Dealers National Association

A. Green Co. is proud to belong to the most respected professional organization for machinery dealers. The MDNA Code of Ethics ensures machinery buyers and sellers that they can deal with confidence when doing business with an association member.


Association of Machinery and Equipment Appraisers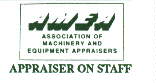 AMEA is the only recognized professional appraisal organization specifically for machinery and equipment. A. Green Co. has an accredited appraiser on staff. This assures you that an appraisal of your equipment by us will be made to the highest standards.
Please email us for more information on the Professional Trade Organizations.